Deadweight Removal levels
One of the best value weight saving options on the market
Whether you're building a fast road car or a track weapon, cutting weight doesn't have to cost an arm and leg.
Working with Piston Lab, we removed 17kgs from their E46 M3 using our Touge 500 battery. As this car is used mainly as a weekend B road and rapid road trip car, we knew practicality and drivability must not be compromised. This is why we paired it with our medium sized battery.
At a cost of £23 per kg saved, its far better value than many other light weight mods.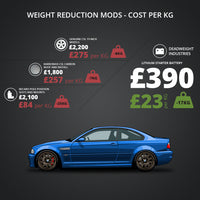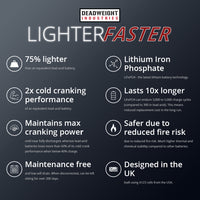 Lighter Faster
Deadweight industries brings you the latest in Lithium-Iron Phosphate (LiFePO4) battery technology to deliver unsurpassed performance.
Ex-Mühle, Nürburgring - Germany

Porsche 997.1 GT3
Aremberg, Nürburgring - Germany

Honda S2000 & Porsche 996.1 GT3
Ready to Race

Porsche 991.2 GT3 Cup
Circuit de l'Anneau du Rhin - France

Nissan R33 GTR and Honda S2000
Snetterton Racing Circuit - United Kingdom

BMW e46 M3
Karrusell, Nürburgring - Germany

Mazda MX5 NB & Renault Megane 3 RS
Ex-Mühle, Nürburgring - Germany
Porsche 997.1 GT3
Aremberg, Nürburgring - Germany
Honda S2000 & Porsche 996.1 GT3
Ready to Race
Porsche 991.2 GT3 Cup
Circuit de l'Anneau du Rhin - France
Nissan R33 GTR and Honda S2000
Snetterton Racing Circuit - United Kingdom
BMW e46 M3
Karrusell, Nürburgring - Germany
Mazda MX5 NB & Renault Megane 3 RS
Deadweight Industries Partners